AC-Hunter™ Community Edition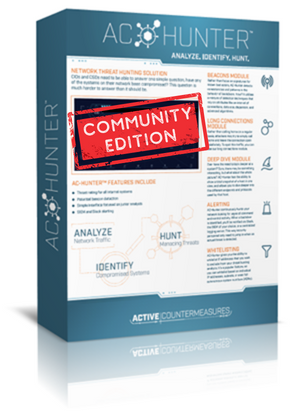 We've released a free version of AC-Hunter to ensure that "price" is not an inhibitor to threat hunting your environment. The free Community Edition of AC-Hunter has a majority of the functionality (with some limitations) available in the paid Enterprise Edition of AC-Hunter and retains the same powerful threat hunting analytics and network insights.
Happy Hunting!
AC-Hunter Community Edition Latest Notification
It's our sincere pleasure to announce the release of AC-Hunter 6.3.0 Community Edition!
Up until now we've offered RITA as a free Threat Hunting tool and AC-Hunter as a commercial Threat Hunting tool. AC-Hunter Enterprise Edition offers expanded investigation, safelisting, and integration with company services like LDAP logins and alerting. AC-Hunter Community Edition ("AC-Hunter CE") sits in the middle of those two, providing expanded viewing and safelisting over RITA, but leaving off some of the tools and capabilities needed by larger organizations.
The best part is that AC-Hunter CE is free.
Our existing commercial AC-Hunter product is now called the AC-Hunter Enterprise Edition. While the Community Edition does not include support, we have set up a community discussion/support area for CE on our Discord server to assist users. See our CE Support section below.
We hope this makes it possible for you to perform regular threat hunts across your network!
AC-Hunter Community Edition Documentation
Lots of answers here.
The AC-Hunter Community Edition Pre-Install, Install and User Guides.
Latest Active Countermeasures Blog Posts: