AC-Hunter™ Community Edition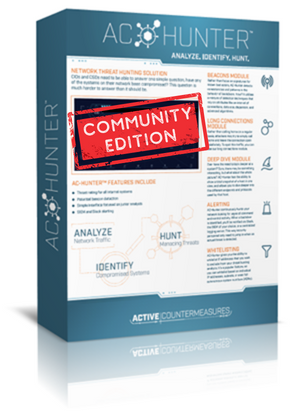 We've released a free version of AC-Hunter to ensure that "price" is not an inhibitor to threat hunting your environment. The free Community Edition of AC-Hunter has a majority of the functionality (with some limitations) that is available in the paid Enterprise Edition of AC-Hunter and retains the same powerful threat hunting analytics and network insights.
Happy Hunting!
Thank you for checking out AC-Hunter Community Edition! ACH CE is available as an install script or a VMWare virtual image. Which one you should choose depends on your specific user case.
Choose the Install Script if:
You want to closely match a typical enterprise deployment
You want to do a Proof of Concept (PoC) in your work environment
You want the option of installing Zeek or one of our open source tools (like BeaKer)
Choose the VMWare VM Image if:
You just want to set up ACH CE as quickly as possible to check it out
You have Zeek logs or pcaps you want to manually copy over and analyze
Choose the VMWare VM Image instructions from John Strand's Webcast if:
You want to deploy ACH CE on your home network
Latest Active Countermeasures Blog Posts: